About us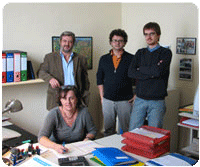 Premix
start its activity on December 1993, after the shut down of LONZA Italia S.p.A., sales office of the Inorganic Chemicals department of A-L Alusuisse-Lonza Group, at that time formed by Martinswerk GmbH, Lonza Werke GmbH and Lonza Graphite & Technology.Premix inherited the experience, the consolidated presence in different market sectors and the deep technical knowledge that led to be esteemed by the customers.
Premix
act as Agent as well as Distributor of inorganic raw materials for the industrial productions in different fields like
Rubber & Plastics, Refractories, Frictions, Abrasives, Lubricants, Electro Chemistry, Technical Ceramics and so on
Premix activity is based on a close technical co-operation with the Customers, helping them in the problems solving process also by the support of the R&D departments from our Principals. Furthrmore we act as raw materials finders on behalf of our Customers, assuring also our warehousing service.